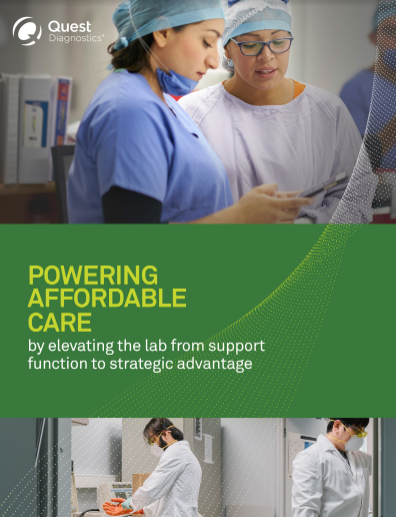 Healthcare trends are working against your health system. It's time for new solutions.
Hospital administrators, healthcare professionals, insurance companies—and even the government—have been trying to bend the cost curve of healthcare for decades. Negotiated rates, digitalization, and incentives to move toward value-based care are making an impact but haven't yet been able to halt ever-rising costs. The strain is felt by patients and their families, insurers, and caregivers. But no group is as squeezed as health systems.
Your goals are clear: improve the quality and experience of care, improve the health of patient populations, and reduce the per capita cost of healthcare, while finding a sustainable position amid industry transformation. Yet many hospital systems fail to leverage one of the most effective sources of change: the diagnostic laboratory. By rethinking how the lab fits into your system's organization and objectives, you can increase its impact on operations, discover new ways to improve the patient experience, reduce overhead, and even turn a cost-center into capital to support strategic initiatives.
Download The Ebook To Learn More